Rome Holiday Houses consiglia, prima di prenotare e di raggiungere la nostra struttura, di verificare se sono in atto restrizioni agli spostamenti legati all'emergenza COVID-19. I viaggi infatti potrebbero essere autorizzati solo per motivi specifici e, in particolare, quelli a scopo turistico potrebbero non essere consentiti.
Rome Holiday Houses è lieta di accoglierti in una delle sue strutture.
Our vacation homes are located in the Aurelio area, near the Vatican. In the extreme vicinity, you will be able to benefit from all the useful activities during your stay. We are perfectly connected with the main areas of interest.
We are in the heart of ROME.
Come raggiungere Rome Holiday Houses? Semplice, segui le nostre indicazioni!
Would you like to receive more information about your stay? RomeHolidayHouses can be reached, and is always at your disposal, through: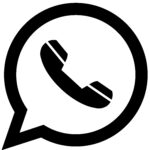 Whatsapp & Phone